Learning about nature is always important for kids and adults alike. During this climate of social distancing and self-isolation, it becomes crucial that we nourish our souls with the beauty and wonder of wildlife and its habitat.
To keep fans of the J.N. "Ding" Darling National Wildlife Refuge in touch with nature during these challenging times, we have created virtual experiences that all ages can enjoy from home. Keep in touch with #DingAtHome via social media and this ever-evolving web page.
#DingAtHome
Follow the Official Refuge Facebook page for daily themed activity videos at 10 a.m. Monday through Friday.
Here's the schedule; click on each day to link to video archives for each theme: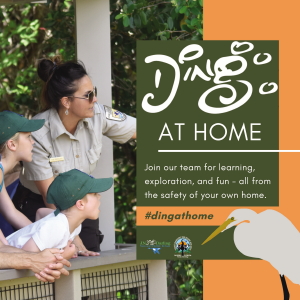 Other Crafts & Activities to Download
Color and solve nature puzzles with these themed activity books
All About Alligators Activity Book
Look Who's Flying! Activity Book
Saving Sea Turtles Activity Book
#DailyDoseofDing
Follow the "Ding" Darling Wildlife Society page for daily 30-second videos of wildlife and the Refuge's calming beauty each afternoon.
2020 Lecture Series Videos
Craig Pittman Lecture, February 28
Jeff Klinkenberg Lecture, February 21
Cynthia Barnett Lecture, Feburary 14
Ron Magill Lecture, February 7
Marina Marchese Lecture, January 31
Clyde Butcher Lecture, January 24