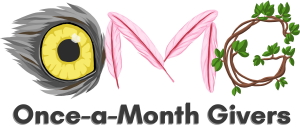 Giving once a month ensures that wildlife will benefit from continuous care for the long haul.
Become an OMG (Once-a-Month Giver) today and help the Refuge protect and improve habitat for wildlife, research water and land the animals need to survive, and educate our next generation of conservation stewards about the importance of nature. Your support is vital and will have a positive and direct impact on the crucial conservation work the Refuge does.
As an OMG, you will receive regular updates from the Refuge throughout the year and become part of our treasured community of monthly donors dedicated to protecting wildlife and wild spaces.
With so much uncertainty in the world today, and as the "Ding" Darling Wildlife Society adapts to the ever-changing circumstances of COVID-19, your monthly support will allow us to continue our mission of educating on the importance of conservation and preservation and will help wildlife thrive well into the future.
Read testimonials from OMG supporters.