8th Annual "Ding" Darling & Doc Ford's Tarpon Tournament
May 3, 2019
Congratulations to the 2018 Winners!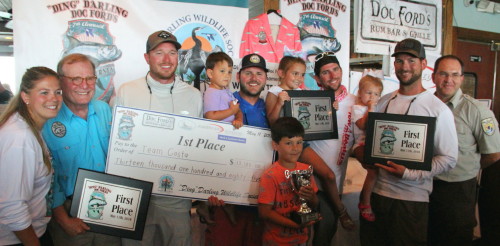 First place winners, Team Costa with Caloosahatchee Cowboy Charters, received a check for $13,185.
Overall Tournament Standings
Click here for a full tournament report.
Total Fish Caught: 49
Number of Teams with Fish: 21
1. Team Costa with Caloosahatchee Cowboy (won $13,185)
2. Doc Ford's (won $7,325)
3. Mabry Brothers, Inc. (won $4,395)
4. Barker Boatworks (won $2,930)
5. Captiva Cruises (won $1,465)
6. Fishin' Divas (angler Deb Powers won the female angler award)
7. Venture Out Charters
8. Dorado Boats
9. On Island (amateur team winner, $600 in gift cards)
10. Tarpon Travelers
11. Fort Myers Marine
12. Money Shot
13. Real Mark Realty
14. Let the Big Dog Eat
15. Jensen's Marina/Operation Open Arms
16. YAM
17. Poondoggers (angler Bo Bartholomew won senior angler award)
18. Teaser
19. Organized Chaos
20. Whitney's Bait & Tackle
21. Let's Take It Outside
Click HERE for more images of the 2018 tournament.
Click HERE to read about the 49 fish caught and $120,000 raised.
To celebrate the history of the first documented tarpon caught on a rod-and-reel in "Ding" Darling's Tarpon Bay in 1885, Doc Ford's and the "Ding" Darling Wildlife Society-Friends of the Refuge have partnered to host this seventh annual "catch, care, and release" tournament on May 11, 2018. Registration is $500 per team of four, 100 percent of which goes back to the anglers in cash awards.
Stay tuned for announcements about the 2019 tarpon tourney. Please text SOCIETY to 50555 to be put on the mailing list.

For questions regarding the tournament or interest in becoming a sponsor, please call the Society office at 239-472-1100 ext. 4.