We Heal the Earth, and the Earth Heals Us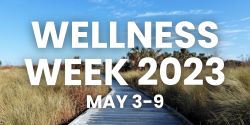 Nature is the peaceful home that we all share. While it's true that everyone enjoys nature differently, we can all agree on one thing: Time outdoors feels good.
In fact, vast bodies of research support the vital impact that nature exposure, especially intentional time in nature, has on mental and physical wellbeing. Read this study to learn more.
As much as we need nature, nature need us. With increasingly frequent intense weather events (such as Hurricane Ian), the acceleration of our planet's climate crisis is universal.
People Conserve What They Care About
MISSION STATEMENT

"Ding" Nature Wellness: Mind, Body & Heart seeks to provide unique, cutting-edge programs and opportunities to connect individuals and communities to themselves, each other, nature, and the U.S. Fish & Wildlife Service's mission of conservation.

In essence, people protect what they care about. By fostering opportunities with the purpose of showcasing nature's endless wellness benefits, the "Ding" Wellness Program helps meet individual and community wellness needs and promotes a deeper, more meaningful relationship between individuals and their planet.

We believe this symbiosis and deep-rooted connection between individuals, communities, and their planet lies at the core of sustainable conservation.
'Ding' Nature Wellness: MIND
Offerings for wellness of the mind and mental health:
The Self-Guided Mindfulness Trail, located at Bailey Tract (note: Smith Pond entrance is closed), offers visitors an intentional, connected nature experience. The trail spans 0.3 miles and features five stand-alone kiosks with written and audio mindfulness-in-nature exercises.
Join us for a meditation of mindfulness program at the Refuge.
Tune in every "#Mindful Monday" on DDWS' Facebook page or Instagram for weekly mindfulness momentsand read our weekly "Ding" on the Wing e-newsletter for more wellness tips.
Stay tuned for in-person and virtual lectures, recommended readings, and other resources.
'Ding' Nature Wellness: BODY
There are countless physical health benefits to spending time in nature. CLICK HERE to learn about a few from retired physician and Refuge wellness volunteer, Dr. Joe Blanda.
Offerings for body wellness:
In addition to biking, hiking, and exploring the Refuge, you can take advantage of specific programs centered around physical health, such as:
Refuge yoga (occasional)
Ranger-led hiking and biking
Nature Boot Camp
"Walk-with-a-Doc" guided walks by Dr. Joe Blanda
Refuge Cleanup with a Ranger
Wildlife Olympics
As Refuge programs become available, they will be posted to the Refuge's Eventbrite page. Sign-ups are required and accessibility accommodations available upon request.
"Ding" Nature Wellness: HEART
"Heart refers not only to what is beating in our chest, but also our innate longing for deep connection, community, safaety, and belonging. The "Ding" Nature Wellness program seeks to bring our mission to local communities and beyond, via partnerships and initiatives - all with the goal of spreading wellness and connecting individuals to themselves, each other, and their planet.
Getting to the heart of the matter:
Wellness Week 2023

: May 3-9 (as a lead-in to National Mental Health Awareness Week). A week filled with unique in-person and virtual programs, lectures, learnings, and events. All programs are free and will be posted to Eventbrite.
Our "Mobile Mindfulness Program" brings unique wellness/mindfulness programs to community-based partners and individuals in need, both on- and off-island. Programs can be adapted for any age and run the gamut from ranger-led mindfulness walks to immersive nature journaling.
In partnership with the Lee County School District, the installation of elementary, middle, and high school "Pocket Refuge" Pollinator Gardens across Lee County provides a safe, calming space for students to be present and enjoy a pocket of nature. These pollinator gardens provide beautiful native habitat for pollinators and feature engaging "Pollinator Garden Mindfulness" signage, complete with written and audio mindfulness exercises.
New mindfulness audio podcasts are coming May 2023.